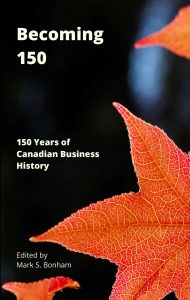 The commemorative book of proceedings from the conference 150 Years of Canadian Business History will soon be released. Titled Becoming 150: 150 Years of Canadian Business History and Published by University of Toronto Press, the book contains the presentations made in many of the sessions and the Keynote Presentations.
There are nine sections to the book containing 19 essays on various relevant topics. The topics range from Women in Canadian Business History to The Role of Archives and Sources in Canadian Business History. Contributors include Jim Leech (former CEO, Ontario Teachers Pension Plan), Douglas McCalla (University Professor Emeritus, University of Guelph), Robert McIntosh (Director, Library & Archives Canada), Amelia Young (Founder, Upside Consulting), and many more.
You can see more about the CBHA/ACHA at its dedicated website HERE.
Stay tuned for more information about the book and a book launch!